"HINCHINBROOK WATERS" – Absolute Waterfront Townhouse Development
LIVE THE DREAM – NOW!
Cruise The Early Morning Calm; Play Golf At Midday; Dine In The Moonlight By The Marina. Ever dreamt of living in your own special piece of tropical paradise; located in a most sought after destination in Australia?
Boasting some of the best boating and fishing grounds, overlooking world heritage-listed wonders, surrounded by lush tropical untamed wilderness, breathtaking pristine sandy beaches, deserted islands and coral reefs affording the most spectacular and amazing snorkelling and diving experiences.
Hinchinbrook WatersThe place is "Hinchinbrook Waters". Located at Port Hinchinbrook, a planned and integrated resort on the mainland overlooking the famous heritage-listed National Park island of Hinchinbrook, in the Great Barrier Reef Marine Park in North Queensland, Australia. Port Hinchinbrook offers deep-water access to the Coral Sea and the calm sheltered waters of the Hinchinbrook passage.
'Hinchinbrook Waters' is a boutique absolute waterfront development at Port Hinchinbrook surrounded by million dollar homes. It offers direct access to the waters around Hinchinbrook Island and the Great Barrier Reef Marine Park. Perfectly positioned on Lot 12 at the 'Grande Canal', it features two very special architecturally designed low maintenance residences of 255m2 with premium quality fittings and fixtures.
---
Each townhouse has three full sized bedrooms, fully air-conditioned, a comfortable entertaining and dining area, a European style kitchen with stone worktops, polished Porcelain tile floors, the masterbed with a real timber floating-floor, a huge entertainer's balcony and a large garage/store with remote controlled access.
A 12-meter private pontoon will enable the lucky owners to moor their vessels of up to 15 meters long (50 feet) alongside, at the end of their garden. The plan has been architecturally designed so that the master bedroom on the first level offers water views across the Hinchinbrook Passage to Hinchinbrook Island, as well as to the Cardwell mountain ranges. Sunrise views from the bedroom are spectacular, rising over the center of the island and glistening over the calm waters of the passage.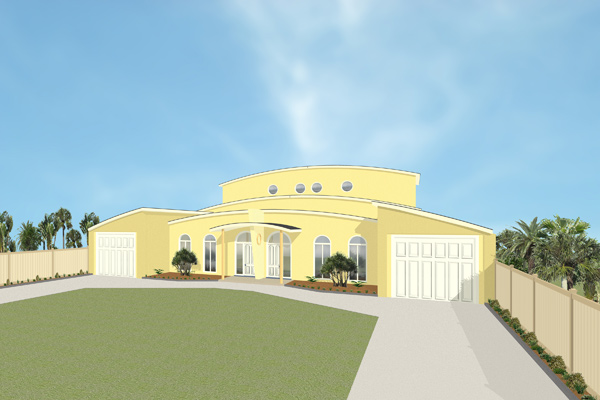 ---
The magical islands of Dunk and Bedara (boasting $1,000 per night exclusive celebrity accommodation) are a short cruise away. Dunk and Bedarra are among a group of 15 tropical islands lying close offshore with one of the world's most remarkable attractions, the Great Barrier Reef, right on your doorstep! The island's waters are breeding and feeding grounds for Dugongs (sea cows), Turtles, Dolphins and Birds as well as supporting a wide variety of unique ecologically sensitive vegetation.
Port Hinchinbrook is located next to the seaside town of Cardwell overlooking Hinchinbrook Island, Australia's largest island National Park.
Cardwell is situated between the cities of Townsville and Cairns. Both Townsville and Cairns are serviced with International and Domestic Air Terminals. The former is 165 klms away (2 hours drive) and the latter is 185 klms away connected by the fast national Bruce Highway 1.
TO BE DEVELOPED SOON. You may register your interest via email.